PARTS DEPARTMENT
Rich Harris, Parts Manager
email: richharris@demarytruck.com | 614-486-9603 | Toll Free 1-800-837-1419 Parts Hours: 7 AM – 8:30 PM, Monday – Friday or 24/7 online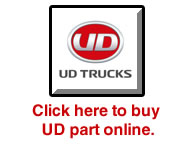 Ohio's Largest Stocking Dealer for both Mitsubishi-Fuso and UD Truck Parts and Accessories! COMPETITIVE PRICING GUARANTEED! – IF WE CAN'T BEAT THE COMPETITORS PRICE, WE WILL MATCH IT! Click here for details. 
If you're looking for diesel truck parts, our parts department keeps a large inventory of both manufactures parts as well as common after-market diesel parts. Our highly trained parts staff is ready to answer any questions you have and ensure that all your needs are met.

SCROLL DOWN TO VIEW OUR USED PARTS INVENTORY!
USED PARTS INVENTORY

ENGINES

DOORS

4M50, 2008 MITS FE
2005-2011 LEFT DRIVER'S DOOR, MITS FE
2008 HINO 145 ***HOOD***

TRANSMISSIONS

DIFFERENTIALS

2007 MITS FM-260 ALLISON AUTOMATIC
2004 UD-1400
2009 Isuzu NPR, AISIN Automatic Transmission
2003 MITS FE-640
2007 Isuzu NPR, Aisin Automatic Transmission
2007 MITS FM-260
2004 UD 1400
2003 MITS FE-639
2006 MITS FE
2007 MITS FE-140
2007 MITS FE
2006 Mits FE
2007 Mits FE

MISC

 2006 UD 2000 A.B.S. Modulator

***SUSPENSION SEATS – NOW AVAILABLE AT DEMARY TRUCK!***

The LTSS is a low profile suspension system for use in vehicles with limited space. Specifically designed for light truck, industrial and off-road applications its unique suspension system enables it to:

• Reduce vibration by up to 70% with Mechanical LTSS suspension with weight adjustment

• Ultra-Comfortable Foam  • Energy Absorbing mesh under seat

• 9.5″ fore/aft track adjustment  • Built in headrest

• Weight rating 110-265 lbs  • Hand pump air lumbar in back of seat

• Reduce driver fatigue  • Increase user comfort

• Fit into vehicle with small cabins  • High Back  • Grey Cloth